Questpond
.NET Fresher Training with Projects
Want to make best use of your summer time? Learn .NET with a LIVE Project.
51 Weeks
Course Start Date: 6 Mar 2011
This course runs for 51 Weeks
About this Course
This course covers all the .NET technologies that you will need to work on: ASP.NET, SQL Server, OOP, ADO.NET and basic .NET framework. This online course does not just cover theory and explanation, you also get to work on real projects. Through practical demos on important features and examples, you will understand the fundamentals. In 30 days, you will get the complete knowledge and training to outperform your colleagues and stand out in front of your boss.
Main highlight of this course : it's flexibility: We make sure that you are to able to attend all the online classes as per your convenience. We have continuous courses running in different time slots, you can join the slot that suits your requirements and suitability. If you have any other requirement, you can let us know and we will make sure you are accommodated.
.NET Fresher Training with Projects online course package:
30 LIVE teaching hours
600 high quality videos for full month
eBooks for self reading : 400+.NET interview question book
Mock Interviews to build your confidence when you go for real interviews
What's included in the course?
The trainers consists of a Microsoft MVP
NET concepts
Calculator project for OOPS concept
Chat application in ASP.NET
Chat windows application consuming webservices / WCF in ASP.NET
Invoicing application for ADO.NET
New Concepts WCF, Silverlight and LINQ
Chat application in ASP.NET
The illustration below shows the topics of the videos: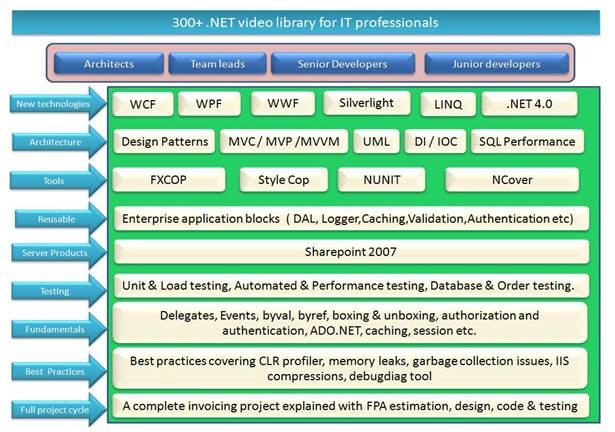 Here are a few demo videos:
1. Mediator pattern using .NET:
2. Command pattern using .NET:
Language of instruction: English
About the instructor
Renowned Trainer and Author MR SHIVPRASAD KOIRALA and Questpond make a team of top MVP recognized professionals in the Microsoft domain. Since 2001, we have trained many professionals in technologies like OOP, ASP.NET, SQL Server, WCF, WPF, WWF, Silverlight, LINQ, Azure, Architecture and Project Management. Questpond is famous for online trainings, recorded videos and best-selling books. Check out our complete profile at:
http://www.wiziq.com/questpond
for more details.

We organize online as well as offline training from interview preparation aspect in C#, SQL Server, ASP.NET, WCF, WPF, WWF, Azure, Silverlight,LINQ, VSTS,Design patterns , estimation and lot more.
We believe in explaing complex subjects in simple manner.
You can view our 300 videos on .NET interviews at our site:
www.questpond.com
269
FOLLOWERS
1
FOLLOWEE
143
TESTIMONIALS
Schedule & Syllabus
Please wait while we are fetching data...